Last year saw renewed optimism in the outlook for the eurozone.
Many managers have attributed this turnaround in investor opinion to comments made by ECB president Mario Draghi throughout the course of the year.
Particularly, his comments at the end of July – the much publicised 'the ECB is ready to do whatever it takes to preserve the euro' speech – and the September announcement of the Outright Monetary Transactions (OMT) plan.
French manager Frédéric Leroux of Carmignac Gestion described Draghi's comments as a 'game changer' when we spoke to him in November last year.
But it appears markets in Europe had been rising well before that date and its origin can be found sifting through the performance data of last year's top performing managers.
A recent Citywire Global analysis of 2012's top performing fund managers, almost all of whom ran Europe-focused funds, revealed a specific date linking all of their performances.
Of the ten managers included in this analysis, eight saw a clear turnaround in their performance at the same time – the first week of June.
The end of April was a crisis point for many of these managers with their funds incurring heavily losses. One example is the Amundi Midcap Euro fund managed by Caroline Gauthier (see below), which went from +5.3% at the end of April to an all year low of -4.2% on the first week of June.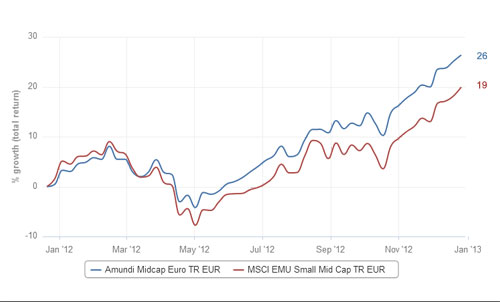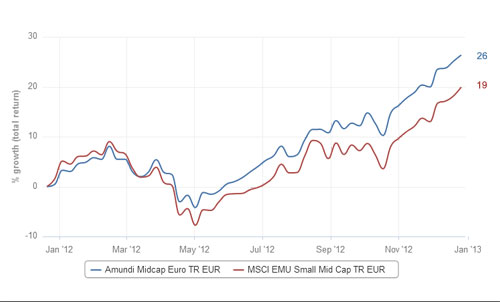 From that point on, however, Gauthier's fortune changed and aside from the odd bump along the road her fund's performance, as well as the other seven funds, soared over the next few months.
The optimism of an impending summer might have bolstered markets but it appears the first week of June was a defining moment for their performance.
At that time, newswires were continually covering the ECB's slightest movement. At the end of April Draghi made his growth compact annoucement as he said the LTRO money was not going into the economy as fast as he had hoped.
Looking at the headlines around the first week in June reveals that, apart from the ECB's announcement to maintain interest rates levels, there was no other really significant news that week from Draghi or other large institutions.
But an interview with top bond manager Michael Hasenstab at the beginning of June hints to this period as being a moment where investors' views began to shift.
'The policies that we had previously thought would be enacted actually have been now. Foremost among these policies is the ECB's intervention via LTROs,' he said.
'Having shown that it would intervene in a massive way already we believe that there is no reason to believe that they would not do so again should pressures rise.'
So it would appear that while September's OMT comments could be considered a turning point in the eurozone's future, it was a seemingly uneventful week in June that saw investors' positive opinion and markets converge to begin the road to returns which marked 2012.