In our latest edition of The Watch List – which is designed to showcase undiscovered fund manager talent– we take a closer look at Allianz's European equity manager Robert Hofmann.
Like previous subjects David Robinson and Catherine Raw, the German-born Hofmann has learnt at the heel of a famous manager in his field.
The Frankfurt-based fund manager cut his teeth in European equity investment as an intern under famed growth investor Dirk Enderlein, who helped assemble Allianz's European equity investment team.
Growth focus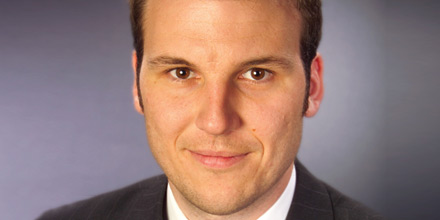 Now sitting alongside Euro Stars AAA-rated Thorsten Winkelmann and Euro Stars AA-rated Matthias Born, Hofmann is among some of the top performing buy-and-hold, growth investors in his sector.
His focus on the long-term story first began when Hofmann was finalising his Masters in Business Administration at the University of Frankfurt.
'I did an internship in the United States on my way back to Germany from studying there for a semester, where I spent three months among the traders at a brokerage and investment firm in New York,' he explains.
'That really increased my interest in stocks and investing but maybe it was not such a good job for convincing me to work on Wall Street.'
'The focus was too much on the short term, it was very much buy today/sell tomorrow and that didn't appeal to me. But I did know I wanted to be involved in investing and that is why I moved into asset management.'
Active study
Hofmann had worked with Allianz as an intern in 2003 and was welcomed back into the fold and offered a full-time position in 2005 upon graduating. This saw him handed an analyst role overseeing the opportunities presented in Scandinavia.
It was not an area Hofmann had covered before but he was excited about increasing the knowledge base of the European growth team and, potentially, uncovering winners many of Allianz's competitors had yet to unearth.
'At that time there was not a real amount of background information on Scandinavia. We felt there was a lot of information we could get and increase our coverage in this area. In the portfolio, we thought we could increase our focus on a regional basis by looking at some of the smaller regions.'
It was under Hofmann's steer that the European equity desk initiated positions in the likes of Swedish healthcare name Elekta and technology firm Hexagon. Both of these stocks are still included in the Allianz Europe Equity Growth and Allianz Euroland Equity Growth portfolios today.
'There are a lot of our stocks we have held for a very long time, such as Elekta, which we bought in 2006/07. Also Hexagon is another long term position in the portfolio. There are a lot of very good, long term companies which have featured for a long time in our portfolio.'
The Scandinavian market remains a core element of the European growth funds, with the Allianz Europe Equity Growth fund having pronounced overweights in both the Swedish and Danish markets.
Asian persuasion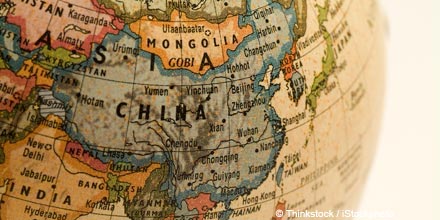 However, Hofmann said his personal visits to Scandinavia have become more periodic due, in part, to a more comprehensive understanding of the market while Allianz has also begun to focus efforts elsewhere.
'I also spent two months in Hong Kong,' he says. 'This enabled me to get a better understanding of the Asian market and how companies we are invested in are approaching this market.'
'Obviously this affects a lot of our holdings and a lot of them are generating revenue in either Asia or the emerging markets. This creates many opportunities to look at for a stock picker.'
'I think a lot of our picks are well positioned to capitalise on both the export potential and also the internal consumption stories.'
Looking ahead
This long-term focus is another major facet of the European equity team's ethos and an area, Hofmann admits, where there has been some change.
'This has gone from two-to-three years when I started and is today around five years or so. This is mainly because we feel more able to be convinced about good business models and how sustainable that is in the very long term.'
'I started on the fund in 2003, so that is now 10 years, ago. The changes have been that we have got more and more insight and a much deeper understanding about the companies we invest in. So when it comes to 2008 or 2011 crashes, we did not do a lot as we are so long-term focused.'
Being fixed on the long-term appears to have proven itself in terms of absolute performance. For example, the Allianz Europe Equity Growth – AT – EUR fund has returned 66.1% in euro terms since Hofmann was named as a co-manager in April 2008.
Allianz Europe Equity Growth: Click to enlarge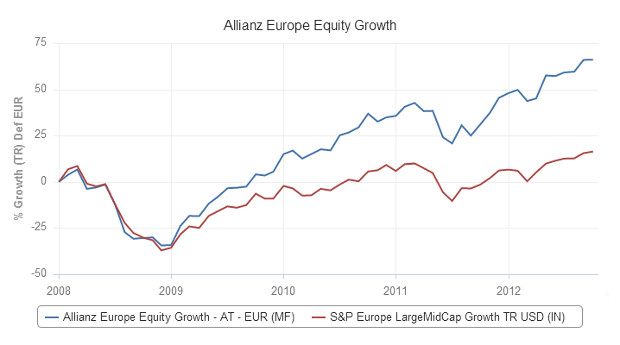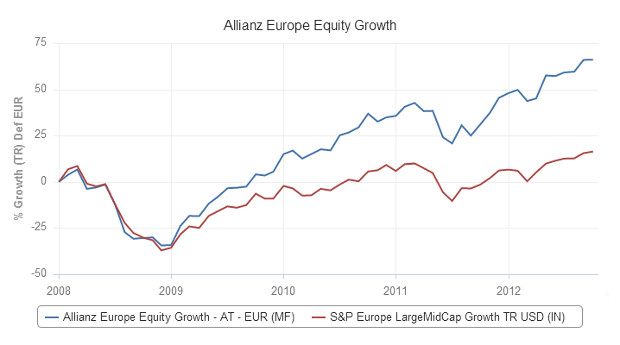 This compares to its Citywire benchmark, the S&P Europe LargeMidCap Growth TR, which rose 16.4% over the same 57 month period. This, Hofmann, says has been achieved with broadly the same investments as when he was named as a manager.
'Our job is to focus on the best companies with the greatest business models, with a good track record and so we have not made any big changes after the crash of Lehman Bros, for example. In fact, if you look at the positioning of our fund in the summer of 2008, it is broadly the same as it is today.'
'This is a result of our long-term process and we don't make any short term moves and we really try to fix on our stock selection. That really helps if you go through something like in 2008 or 2009, but you have to do your homework and then you can look to the future.'
Investment Career
January 2005 – appointed to full-time role on Allianz GI European equities desk
April 2008 – named as a co-manager across European portfolios
Relevant qualifications
Masters in business administration from University of Frankfurt