'At Lloyds Banking Group we expect every external fund manager, individually, to meet customer expectations, while collectively we want our platform to offer sufficient diversity to provide real choice.
'One of the methods we employ to achieve this is an increasingly stringent regime of on-going due diligence. First, a fund's risk-adjusted profile is measured against different market conditions. We use changing market conditions as a live stress-test and note how funds behave. New and existing managers are then scored through a proprietary matrix and traffic light system, which we call "P6".
'We underweight "Profile" from the outset because we presume to seek out only established firms; and link less to boutiques. We underweight "Performance" because we believe solid risk-adjusted performance should be expected and largely becomes a hygiene factor in fund assessment.'
Fundamental questions
'Our P6 scoring process is complemented by a series of key questions we ask ourselves, the first being: 'Would I own this fund?' We assume the view of the customer; we want to highlight quality and what falls short of fit for purpose. We believe in quality rather than quantity. For example, offering 20 different European funds from 10 different managers is not in the best interests of investors. Instead we want to have high conviction in the fund managers we link to, to ensure all information is thoroughly reviewed and unbiased – to understand what drives performance by lifting the bonnet on the funds we link to.' This is how LBG's Jake Moeller and Jonathan Beckett explain their fund manager assessment method.
The 'P6 matrix': Click to enlarge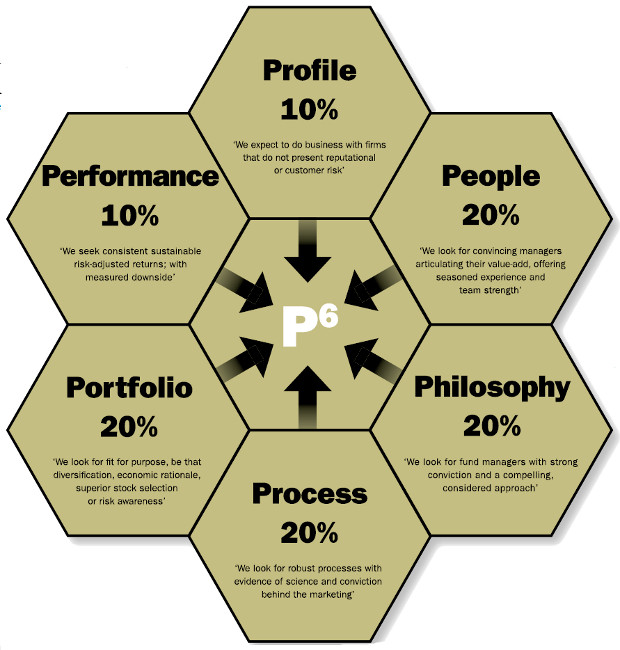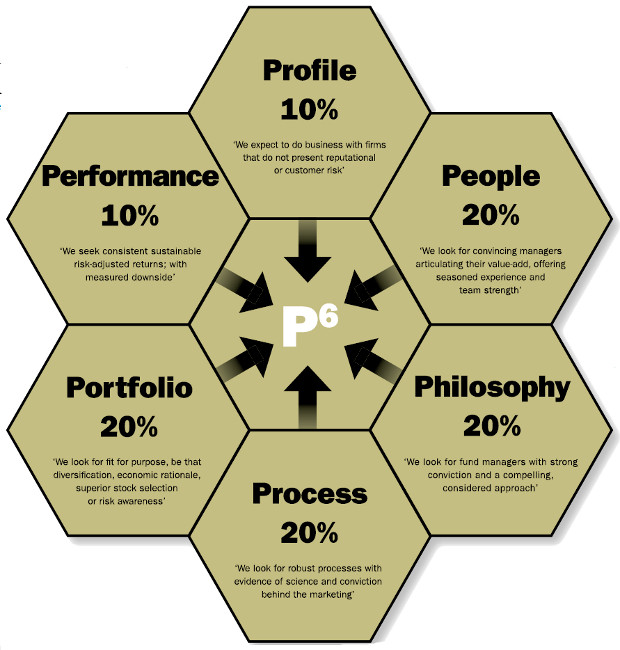 Eye-balling essentials
For them, face-to-face fund manager meetings are an essential component of good fund assessment. They normally bring along two analysts to allow the meeting to evolve and to ensure fund manager responses are accurately recorded. They believe building a rapport with the fund manager is essential to encourage them to express themselves. They can then interject on points of interest and use the manager's own responses to tease out a particular theme. In this way they can read the fund manager's tone, conviction and confidence by easing them subtly away from any rehearsed scripts. Both Jake and Jonathan have been fund buyers at various points in their careers and their experience of blending funds in a portfolio adds an extra dimension to their understanding of style biases, portfolio tilts and performance outcomes.
Being fund mechanics
The team like to quickly get past the marketing and into the mechanics of the fund; the nuts and bolts, the people, the stocks, the asset allocation, the optimisation and the risk.
The team has used most of the high profile fund analysis software packages on the market; while constantly calibrating and enhancing their own screens to filter out noise. Both Jonathan and Jake believe all key variables should tell you something unique; to be multiple facets of a fund and not be too correlated.
Combining distinctive approaches
When it comes to tools, their different preferences reflect different backgrounds: Jonathan's iPad goes everywhere; Jake on the other hand likes a pen and some paper. Jake prefers to undertake more style analysis; Jonathan focuses more on hedge-like ratios such as Omega and Calmar; while taking a special interest in distribution patterns.
More so than Jonathan, Jake likes the Information Ratio as a measure of a fund's active management. For him, tracking error and alpha are simple but crucial metrics to calibrate the success of a fund. The team also dig into style drift, volatility, scenario analysis and sector exposures but as Jake says 'at the highest level you simply need to know if your fund manager is converting active bets into outperformance'.
Jonathan tends to have FinEx, Lipper and Bloomberg on his desk. 'By having three screens Jake thinks I am trying to launch my own Mars explorer; I genuinely prefer to have as much "noise" in front of me at all times.'
By comparison Jake doesn't like clutter or undue complexity. 'After I have been tempted by the initial marketing story of a fund, I ask myself could I explain the mechanics of this investment to a friend who is an investment layperson?'
Those different approaches lead to healthy debates and a culture of constant peer review as they unpick each fund like a puzzle. Both believe in getting down to stock-specific stories – the key drivers – and qualitative analysis. Meanwhile the team is not the biggest fan of 'black box' proprietary models that tend to be overly rigid and believes in making active decisions founded on solid analysis and debate.
Jonathan Beckett and Jake Moeller are senior managers in fund manager assessment at Lloyds Banking Group
Selectors' took kit: click on the pictures to enlarge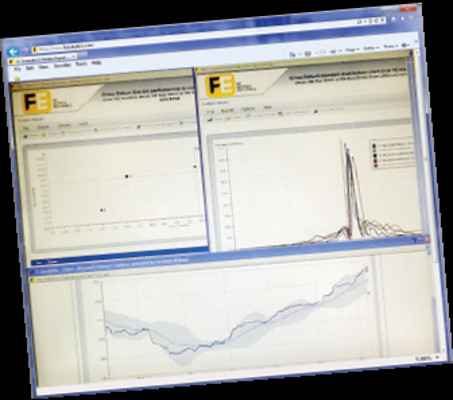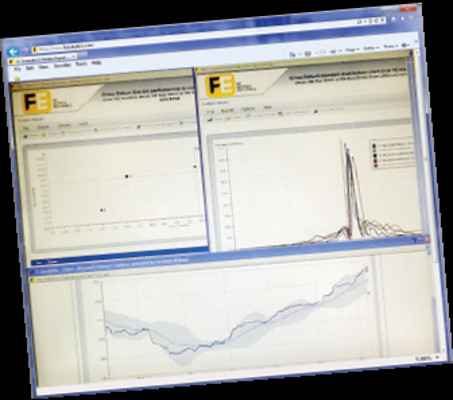 1. FE Analytics: 100% cloud-based, Jonathan's
go-to tool when it comes to quickly checking numbers
in the office or on the move. Easy to use, easy to illustrate and
with good charting options.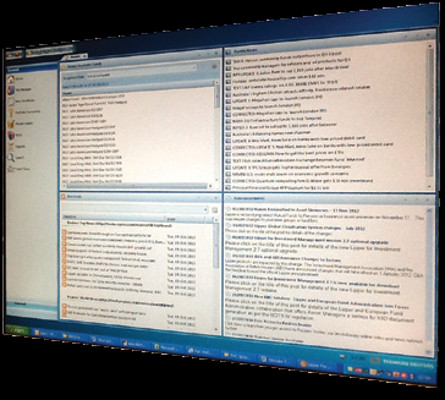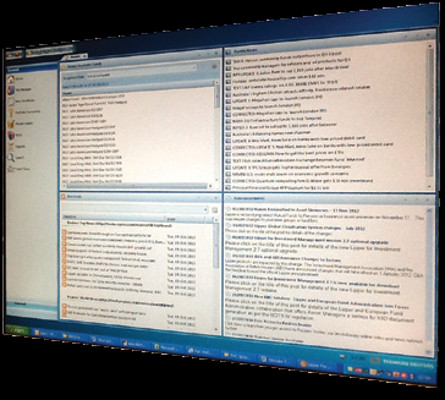 2. Lipper Investment Manager: A great mainstay tool,
used extensively by our fund reporting and
analysis team.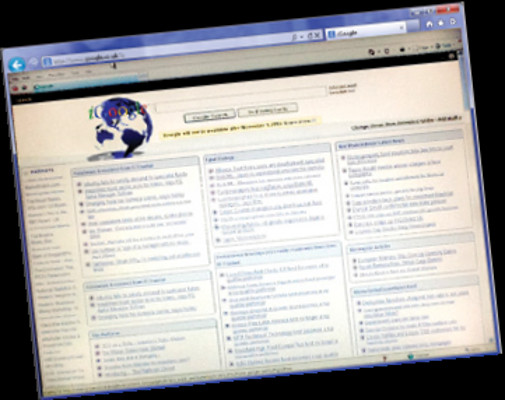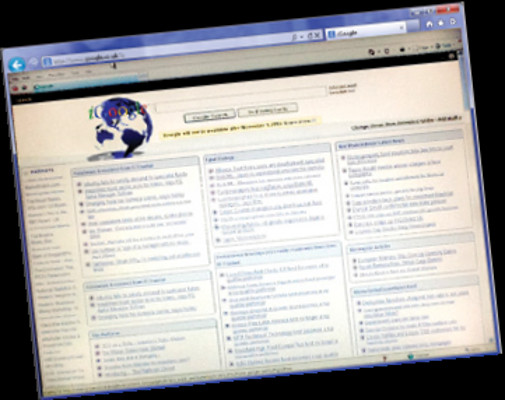 3. iGoogle: A great way to capture a vast
array of fund manager activity through RSS feeds.
We also use Bloomberg and Reuters for capturing market news and metrics.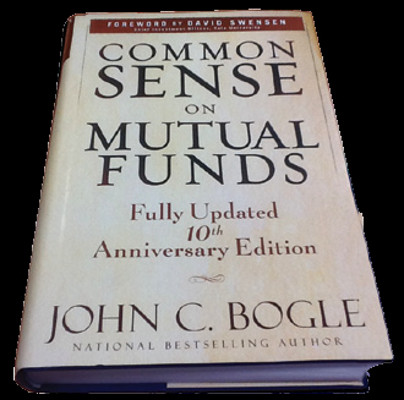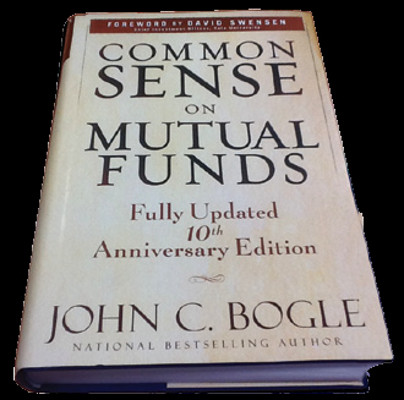 4. John Bogle: Common Sense on Mutual Funds
is something of a bible on fund basics.
Bogle may not always be right but he keeps you grounded.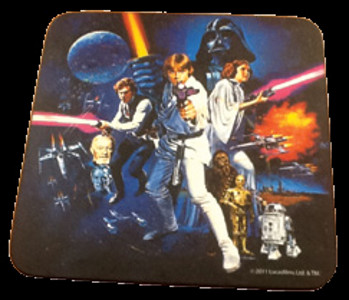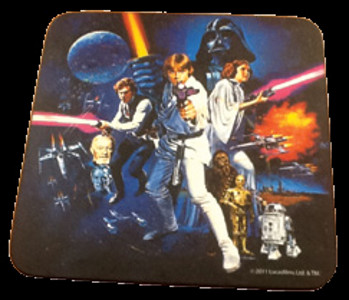 5. Star Wars coaster: We both grew up in the 70s
and this was the film from our childhood.
Jonathan is something of a sci-fi buff, which perhaps
explains his love of technical software and multiple screens.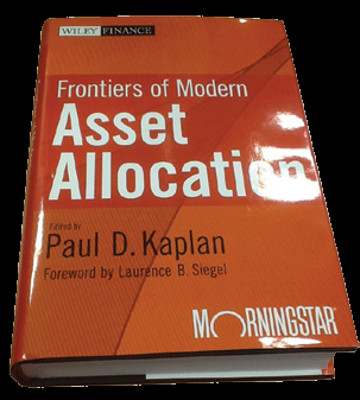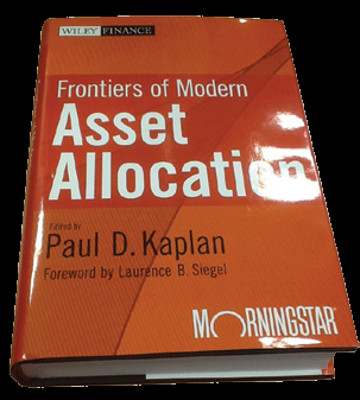 6. Paul Kaplan: Kaplan's coverage of Black-Litterman
models has led to some good debates on volatility.
This article originally appeared in the December 2012 edition of Citywire Global magazine.