The Japanese property market saw improvements within its office and retail areas during the summer months but managers have warned investors against premature optimism for the sector.
Figures from global real estate consultant DTZ published in October show that commercial property transactions rose by more than 15% to ¥402 billion (€3.5 billion) during the third quarter of 2010. However, the market remains volatile and Henderson Global Investors' property expert Patrick Sumner said the country's office market is on the front line of this increase.
'There was a bit of an outperformance by Japanese companies in late July,' says Sumner (pictured below), who runs the €535 million Henderson Global Property Equities fund, 'but this was because the vacancy of office space seemed to be peaking and when it went down from around 9.1% to 8.4% that increased optimism.'
He adds: 'In the next couple of years there is going to be a lot more supply entering the market which will limit the rental increase and kept it flat – it's not really a rosy outlook.'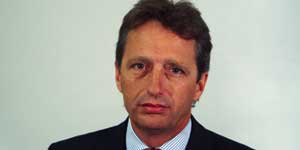 Fellow Asian property investor Johan Strand of Svedbank Robur believes the office vacancy rate in Tokyo is heading in the right direction but also highlights the issue of new projects entering the market.
'My big concern is how the new supply will be absorbed as there is not enough demand for it,' says Strand, manager of the €100 million Folksam Globala Fastighetsfonden fund. 'In the newly built offices the vacancies stand at around 30%, with the older units at about 8%. The new supply could distort the market.'
The global property consultant's report supported the managers' outlooks as it said that although total investment volumes increased in the third quarter: 'It is hard to see a continuous and steady upward trend as the market remains volatile.'
Singapore-based Sumner is currently underweight Japan and although some developers – such as Mitsubishi and Sumitomo Constructions – have done well in recent months their figures should not be misinterpreted.
'They have seen a bit of bounce but I think it's a bit premature,' says Sumner. 'Whatever recovery there was in share price is probably peaking and we don't think the outlook is that positive.'
He has rotated out of the property developers and is focusing his attention on Japanese REITs which, he says, despite taking on 'less exciting offices' offer good dividend yields at around 6%. Strand still believes there are worthwhile groups in the Japanese market and has a slightly more positive approach to the market than his counterpart.
'In the market the company valuations look good with some good dividend yields. I am more on the positive side, especially since there are areas like the US where people are starting to look at Japan more closely.'
One area which could benefit investors, according to Sumner, is a possible corporation tax cut which is currently being discussed in Japan.
'There has been a slight pick up in transactions, but the main reason is because of limited supply,' says Sumner, who believes the corporation tax could be cut from 40% to 35%. 'This could happen and we could see a significant uptake on office space in Tokyo.'
However, in order for the Japanese property market to truly show signs of recovery you need to have inflation in the country or eliminate deflation, according to Sumner.
'It would turn around a long term secular trend if there was any hint of a return of high prices. The world and his dog would power back into Japan.'
This article first appeared in the November 2010 issue of Citywire Global magazine.