The number of funds launched in Europe in the third quarter of 2012 fell to its lowest level in five years, according to the latest Lipper data.
The fall in the number of newly-launched funds, 404 funds compared with 417 new funds in the previous quarter, continued the trend of a steady decline since the beginning of 2011 in the net size of the European fund universe.
The number of funds launched in the third quarter dropped to below half the volume launched at the industry's peak in 2010, suggesting an overly bearish sentiment amongst asset managers to embark on new product lines.
The report also revealed there were 471 liquidations in the period from July to September this year with a further 241 funds having merged.
Launches, mergers and closures of investment funds: Click to enlarge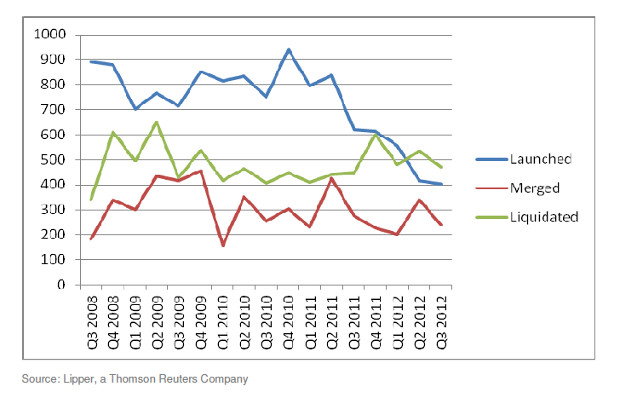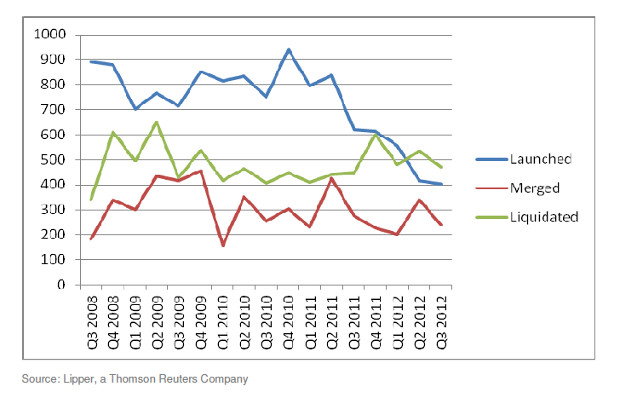 The report's authors Christoph Karg and Detlef Glow said that the industry is still consolidating its fund ranges mainly due to regulatory risk as uncertainty over financial stability in the euro area declines.
'The industry still has a lot of homework assigned from the supranational and national regulators.'
'The discussion of how new directives, regulations, and laws will be implemented in the markets has increased significantly,' the authors said, adding that whilst eurozone risk was still a challenge it is currently not the dominating risk.
Bond funds accounted for the largest share (121 launches) of new fund launches in the third quarter, followed by equity funds (99) and mixed asset funds (87).
The overall drop in fund launches appears a step behind demand for the funds which saw a two-year high in sales in September.
At the end of September, equities still stood as the most popular asset class and made up 37% of the total share, nearly double the volume of bond funds currently held.
Please visit our full site to view this interactive chart
Funds, mostly invested in niche assets, are most vulnerable to liquidation as small volumes become unsustainable in choppy markets.
The authors added that the trend of decelerating growth in the industry may turn around in the next few quarters, citing the decrease of absolute numbers of mergers and liquidations as a sign that the industry is heading towards the end of consolidation of asset classes.